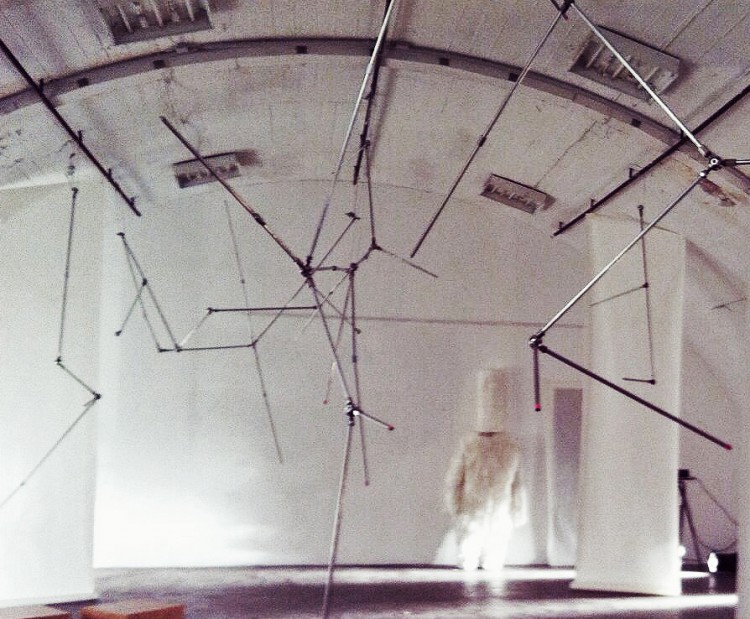 r.h.i.z.o.m.
Modular & Circular Stage System
Michaela Muchina & Yvo Wagener, Berlin, 2015
We started a circular design project to create a sustainable spatial structure for a multifunctional use – interior and exterior –  such as performance, exhibition, conference and workshop. We were inspired by temporary spaces that are based on a flexibility, mobility and lightness.
With support of Timm Wille and Lars Zimmermann we started to produce the whole system which consists of metal parts and textile walls. With our modular parts we were able to build more than just one stage design.

We have a short documentation at the OSCEdays forum: http://community.oscedays.org
#2 stage design for a performance
"Desertieren", Institut für Widerstand im Postfordismus
Vierte Welt, Berlin, 2016
Rottstr5 Kunsthallen, Bochum, 2016
Freies Werkstatt Theater, Köln, 2016


#1 Pop Up Pavillon for an intervention

"Welche Revolution werden wir erlebt haben werden", Institut für Widerstand im Postfordismus
August Bebel Institut, Berlin, 2017                                                                                                             Spielart, Munich, 2015
Vierte Welt, Berlin, 2015